A quick article on how to prepare for SOA-C01 AWS Certified SysOps Administrator – Associate Exam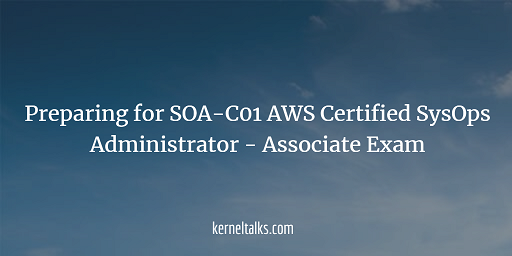 It's a short article on AWS Sysops Associate certification exam. These are extracts from my personal experience which might help you in clearing the exam.
Sysops exam is aimed at you have good knowledge about a few core services like EC2, Cloudformation, Cloudwatch, etc. and AWS CLI. There are many references to CLI options or commands. This exam does not judge you for knowing all AWS services like Solution Architect one but it does check you for a few core services with deeper knowledge.
You must have already gone through the AWS certification page for details about this exam. Let me jot it down for your quick reference.
Total of 65 questions
Cost $150
The exam result will appear on the screen as soon as you submit the exam.
Questions vary in length (short/long) but time should not be constraint here as it could be in SA professional exam.
Topics you should study
Its recommended that you should at least consider clearing AWS certified solution architect exam before appearing this one. It will firm your AWS foundational knowledge for many services and help you get a grip on the learning path for Sysops.
Below are few service which you should deep dive –
Cloudwatch

Built-in and custom matrics
AWS CLI commands and options
Deep dive for custom matrics
Cloudwatch console (what, when, where)
Cloudwatch alarm deep dive

Cloudformation

All template references and their use cases
How to re-use templates in other regions/accounts etc.
Create, update, and delete template/stack. All its stages, CLI options, console, etc.

EC2

Pricing classes, how EC2 is billed and use cases
I did not get many questions on EC2 apart from identifying the correct EC2 class in a given scenario
Spot block
System status checks and Instance status checks
Autoscaling group deep dive
Root cause analysis of EC2 termination on launch
AWS Systems Manager deep dive
AWS Inspector

S3

Different classes and use cases
Encryption
Security using ACL and bucket policies
CORS and CRR
Cross account Access control & signed URLs
Website hosting basics
MFA delete deep dive along with CLI options
Versioning fundamentals

RDS, Redshift

I got the only couple of questions on RDS
Enhanced monitoring
Multi-AZ and read replica deep dive
How to DR, HA, and FT in RDS
Redshift enhanced VPC routing
Redshift basics

VPC and networking

VPC flow logs deep dive
Security group, NACLs, and route tables
NAT, IG, VPC Endpoints
Public, private subnets
VPC peering process
VPC, On-prem connectivity
On-prem extension services for AWS
WAF, Cloudfront

Assorted

IAM, KMS deep dive
AWS Trusted advisor
AWS config deep dive
Shared responsibility model
AWS certificate manager
ELB – ALB, NLB and Classis LB
AWS Beanstalk, AWS Op works
SNS, SQS, Lambda
Health dashboards
Billing tools
Online courses
I relied on only one course for this exam since I backpacked foundational, associate, and professional level certifications before this one. So a few refreshers were required. Here is a list of online courses from well-known websites –
Practice tests
Here is a list of practice tests that you can take online to test your knowledge. If you are already certified you can get a free practice test from AWS itself. You have to claim it under benefits in your AWS certification portal.
I am linking here my last day revision notes which may help you in your preparation.
Our other certification preparation articles