A quick article that helps you preparing for Hashicorp Certified Terraform Associate Exam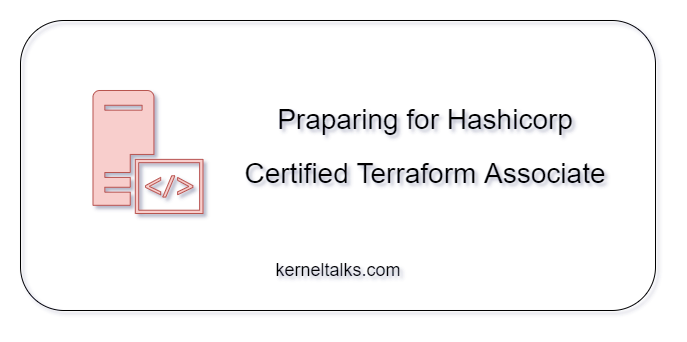 In this quick post, I would like to share some of the resources that help you clear the terraform associate exam. Feel free to add resources you know in the comments section, which may help fellow readers.
The terraform associate exam is designed to test the candidate's readiness towards IaC, i.e. Infrastructure as code. IaC concepts, terraform CLI hands-on (a lot of it) and knowledge on terraform's paid offerings through Cloud or Enterprise should get you through this exam. It's a practitioner level exam, so it shouldn't be hard to beat if you have IaC and cloud background.
You must have researched already about the exam on its official page, but here are quick facts for your reference.
Approx 57-60 questions
Duration 1 hour
Validity: 2 years
Cost: 70.50 USD plus local taxes
Type: Multiple choice
It's online proctored
Topics to study
I suggest you have good hands-on with terraform CLI before taking this exam. It will help you cover the majority of topics, and you don't have to learn them during preparation. That leaves you with minimal topics to prepare for actual certification.
Hashicorp's study guide is the best resource to follow along for preparation. Let me quickly list down a couple of topics you should not miss during preparation –
IaC concepts

Traditional infra provisioning v/s IaC

Terraform basic workflow
Different types of blocks in terraform code
Terraform CLI commands (a huge list of them!)
Terraform Modules, functions, state files

At least go through all functions once.
Lots of hands-on to understand how modules works
State management (a big topic!)

Debugging and variables

Different ways to handle variables
Debugging levels, ways to set them, logging in files

Detailed understanding of Terraform cloud and enterprise

Free and paid offerings in each type
Sentinal, workspaces, remote runs etc. understanding
Clustering, OS availability in each type
Resources for preparation
Assorted list of online resources you can leverage to follow along your preparation journey.
I am linking here my own last day revision notes as well that I prepared during my certification preparation.
Practice tests
Here is a list of practice tests you can take online before going in for an actual exam. It will test the understanding of your topic and concretes your decision for exam booking.
That's all I have to share. All the best!