Let me share my experience to clear the toughest AWS exam 'AWS Certified Solutions Architect – Professional'. This article might help you in your journey to get AWS CSA PRO certified.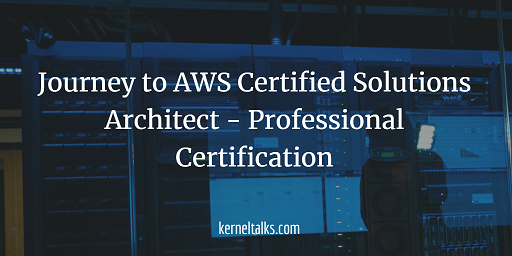 In this article, I am going to cover the last few months of the certification journey which can prove useful to you as it was for me.
As I said last few months, so I assume you have good hands-on experience (might be via personal account/corporate projects) of AWS services. Obviously services like Snowball, Direct Connect are rare to get hands-on but you need to have a solid understanding of these services at least.
Let's begin with the non-technical aspect of this journey which plays a key role in completing your Exam.
Your reading skills matters!
Yup, you read it right. AWS CSA PRO exam is having 75 questions which you need to answer in 180 minutes. Which drills down to approx 2 minutes per question.
Most of the questions are 3-4 or more statements long and so are the choices in answers. So you need to read through almost a big paragraph of text for a single question. Then you understand what is being asked, analyze answers and choosing best which fits the ask. That's too much of work to be accomplished in 2 mins!
And there are very few questions where answers are just incorrect and you can eliminate them quickly in first glance. Most of the answers are correct but you need to choose the most appropriate one to suit the question's requirement. So that's a tedious task which requires more time. Hence I said reading skills do matter.
A tip (might be a crazy one): Watching videos with subtitles is an easy way you can train your brain to read speedily and grasp the context parallelly!
Obviously you should make yourself comfortable before you sit for your exam. Since its a 3 hour, long course and you don't want to get distracted by anything.
Last month revisions using online training courses
In last month before the exam, you might want to subscribe to online courses specifically structured and targeted to the scope of the exam and their material is designed across the core services appearing in the exam.
These courses are a bit on a longer side like 40-50 hours of video but you can always use video speeds (set to 1.5x generally) to go through the course quickly. I took Linux Academy's course by Adrian Cantrill & A Cloud Guru's course by Scott Pletcher. But do not attempt the practice exams at the end of the course right away. Keep them for your final stage before the exam.
There are free courses available on the AWS training portal as well which you can check in the meantime. You should be knowing all AWS services at least by name and their use. Services launched in the last 1 year are less likely to appear on the exam so you can skip them.
Refer AWS documents and videos (Mandatory)
Once you are through online training courses for the exam, you will be well versed in the idea of what you can expect in the exam. These courses often supplemented with the links to AWS whitepapers or re-invent videos related to the chapter topic. Yup, those are essential things to go through.
AWS whitepapers and FAQ pages give you many minute things that you may have missed and help you to determine the validity of your choice for the situation in question. If you are short on time, then at least go through documents for the services in which you are weak or have little knowledge/experience.
AWS re:Invent videos on Youtube is another content-rich platform that gives you some insights/points which you may have missed in your preparation. They are also helpful since many customers are coming in re:Invent and present their use cases. This will help you to map real-world use cases with that in exams and get solid confirmation about your answer. And you can use Youtube's video speed control to go through videos quickly!
Getting there
All right now we are at the stage that all knowledge sourcing has been done and its time to test that knowledge. Now its time to hit those practice exams from your online courses. Be sure to get these practice exams by Jon Bonso. Its a set of 4 practice tests and worth investing.
Also, you should consider taking AWS's own practice exam. If you are lucky you might encounter some questions from it, in real exam. Also, if you hold any previous AWS certification, you must have coupon code in your AWS learning account which you can use to take this test for free.
You are good to book your exam when you can score 90% and above in all the above practice tests by understanding why a particular answer is correct and why others not. Memorizing answers not gonna help you in any way.
I uploaded my 50 page long handwritten notes. They might serve you for last day revision like flashcards.
---
Being there!!
And here you are! The deal day! On exam day, just keep calm and give the exam. Don't rush for any last-minute reads etc. Its gonna confuse and complicate things. Better be in a peaceful state since your mind is much important on exam day because that's what gonna help you to read and understand essays! of the exam in the first go. This way you don't waste your precious time in re-reading questions/answers.
Always keep in mind you can not spend more than 2 mins on a single question. Time is precious!
If you are cant figure out answers quickly then flag it and move on.
If you see answers with the same solutions & only one/two keywords different then easy to finalize answer quickly without reading through the whole statements
Scan through question and capture keywords like a highly available solution, less cost, multi-region, load balancing, etc. This helps you to narrow down to particular services
Start building solutions in mind as you read through questions using the above-said keywords. This helps to look at answers and match the solution you have in mind. It helps you save a lot on time!
Do not submit the exam till last second, even if you manage to complete all questions and review of flagged ones before time. Use the remaining time to go through answers again.
Result?
Your result will be emailed to you within 5 business days. But you can make it out from the messages displayed on the screen once you submit the exam that you made it or not. The message is quite confusing (it's more when you fried your brain for the last 3 hours!) since it states that you complete the exam! (Diff messages mentioned here in the forum) But, in a nutshell, if you see it starts with Congratulations then you made it! and if it starts with Thank You then you need a re-attempt.
Our other certification preparation articles