Listing new features in RHEL7. These 7 new features making RHEL7 stand out from its predecessor.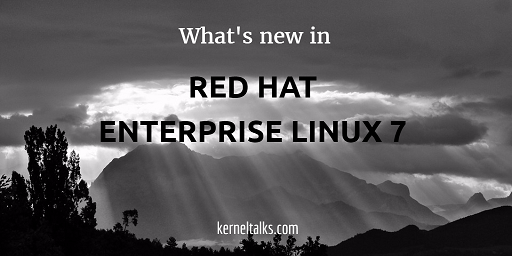 Its been a while RHEL7 is launched and nicely accommodated in Linux world by now. What's new in RHEL7? What is the difference between RHEL7 and its precedence versions? these kinds of questions are flowing through interviews these days. So thought of jotting them down. In this post I will quickly walk through some new key features launched in RHEL7 by Red Hat.
What's new in RHEL7?
RHEL7 officially released in June 2014 with codename Maipo. It took time for the market to absorb this new release since there are many new features launched in this release. Red Hat launched many new ways, commands to do traditional stuff. We are going to see them now –
The default file system is XFS. RHEL6 was launched with EXT4 as the default file system. XFS is a highly scalable, high-performance file system. XFS supports metadata journaling, which helps in quicker crash recovery. This means file system checks will take very little time. The XFS file system can be defragmented and extended while mounted. This makes it more admin friendly in a production environment since it avoids downtime of file systems for activities. Supports only 64 bit systems.
Introduction of systemctl. A new way to manage services on RHEL7 is systemctl. Older service and chkconfig command is being replaced with systemctl.
Run levels being called as targets. In RHEL7 run levels are called targets. Default target (run-level) is defined in /etc/systemd/system/default.target.
Fast boot. RHEL7 boots faster than its predecessors. This is achieved by simultaneously starting services that are not dependent on each other. In older versions, services used to start one after another. So if one service stuck or delays to start it subsequently delays the following process and boot time. This hurdle is removed in RHEL7 allowing it to boot much faster.
New system service manager: systemd. The former init process is no more PID 1 or first process. Systemd is introduced which controls standard base init scripts.
Bigger filesystem limits. RHEL7 now supports filesystem size up to 500TB. This limit is also the same for an individual file. This is due to the XFS file system on a 64-bit machine. RHEL6 supports the 16TB filesystem.
New firewall identity. Former firewall iptables now replaces by firewalld (Firewall Dynamic). iptables still exist in the system and you can disable firewalld and use iptables.
These are key differences in the new RHEL7 release. apart from this there are many new things added in RHEL7. The whole list is compiled by Red Hat here.
Let us know your suggestions/feedback in comments section below!