Article listing benefits of cloud over traditional datacenter. 7 different aspects of cloud vs on-premise datacenter.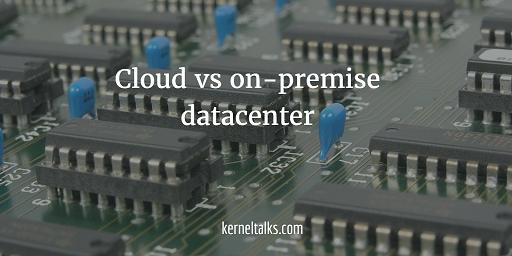 In the past few years, the cloud industry is gaining good momentum. Many companies are moving their workloads to cloud from the traditional data centers. This trend is increasing day by day due to the list of advantages cloud offers over the traditional data centers. In this article we will walk through these advantages of cloud over traditional datacenter. This is also one of the basic cloud interview questions where they tell you to list of pros and cons of the cloud. Without much delay lets jump into cloud vs data center discussion.
Low maintenance cost. For a customer maintenance cost is almost nil. Since you are using hardware from the cloud provider's datacenter, you don't need to maintain hardware at all. Your cost is saved from geographical location cost, hardware purchase, upgrades, datacenter staff, power, facility management cost, etc. All this is bared by the cloud provider. Also, for cloud providers, this is also low since they are operating multiple clients from the same facility and hence cost is low compared to cost one has to bear when all those clients are operating from different datacenters. This is very much environment friendly too since you are reducing the need for multiple facilities to fewer ones.
Cheap resources. Cloud providers have a pool of resources and from which you get assigned your share. This means cloud providers maintain and operate a large volume of resources and distribute smaller chunks to customers. This obviously reduces the cost of maintenance and operation for cloud providers and in turn provides low cost, cheap resources to customers.
Scale as per your need. In a traditional data center you have to study and plan your capacity well in advance to finalize your hardware purchase. Once purchased you are stuck with purchased limited capacity and you can not accommodate if capacity requirement grows beyond limit before your estimated time. It again goes through planning, purchasing new hardware which is a time-consuming process. In the cloud you can scale up and scale down your computing capacity almost instantly (or way shorter in time than traditional purchase process). And don't even need to worry and follow for approvals, purchase, billing, etc things.
Pay as you use. In traditional data centers whenever you buy hardware you make an investment upfront even if you don't use the full capacity of purchased hardware. In the cloud, you are billed per your use. So your expenditure on computing is optimum with your use.
The latest technology at your service. Technology changing very fast these days. Hardware you buy today becomes obsolete in a couple of months. And if you are making huge investments in hardware, the company expects to use it at least for a couple of years. So you are stuck with the hardware you brought with a nice price tag and now way behind from its latest counterparts. Cloud provides you the latest tech always and you don't need to worry about upgrades or maintenance. All these hardware aspects are the headache of cloud providers and they take care of it in the background. As a customer, all the latest technology is at your service without any hassle.
Redundancy. Redundancy in traditional datacenter means cost investment to build almost identical facilities of the primary. Along with it also involves cost for infrastructure which connects them. Also, on-site redundancy for power, network, etc. is also expensive and maintenance prone. When you are opting cloud, everything said previously is just vanished from your plate. Cloud at single entity level like single server, storage disk, etc is already redundant. Nothing to be done and no extra cost is being billed to you for it. For your infra design requirement if you want, you can use ready-made services provided by cloud (for redundancy) and you are all set from failures.
Accessibility. With an on-premise datacenter, you have very limited connectivity mostly locally. If you want access to inside entities, you need to maintain your own VPN. Cloud services have a portal with access to almost all of their services over the web. It can be accessed from anywhere with internet. Also, if you want to opt-in for a VPN, you get a pre-configured secure VPN from your cloud provider. No need for designing and maintaining a VPN!
Let us know your views on cloud vs on premise datacenters in comments section below.