Complete Spyrus WorkSafe Linux2Go drive review covering hardware and software features along with performance parameters.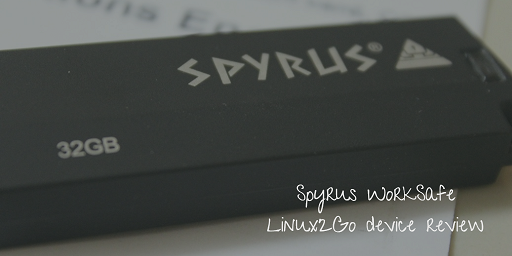 Spyrus WorkSafe Linux2Go is your personal Linux machine on a USB stick with military-grade security. Do you work in IT and move from office to office frequently? Do you travel a lot? Do you aim for lesser luggage to carry? You don't want to carry the laptop everywhere you travel? then Spyrus WorkSafe is the solution for you. Its a secured USB device with SSD storage carrying complete OS and loaded with heavy security features. You just need a live computer with a keyboard, mouse, and USB port to tuck in. Plugin your Spyrus device, boot from USB with Spyrus, and you are good to go. Your workplace, your personal computer is with you all the time! And it's super packed with hardware and software layer of securities that you should not be worried about someone trying to tamper it.
Let's get more familiar with this device and get into its specification.
Physical dimensions
It's a rock-solid device with a black metal casing. The casing is inside filled with an epoxy filling which saves the device from physical shocks and tampering attempts.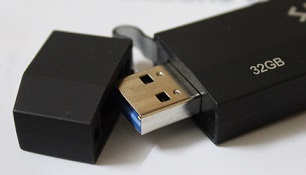 The metal cap is designed large enough to cover the port physically well. It even clicks fit when closed so that it won't loose open while you store the device in a bag, drawers, etc. Ensuring the device is well protected from dirt, moisture, physical damage, etc when not in use and sitting idle. The metal cap is secured with a soft rubber tether so that you won't lose it when not closed. With the cap perfectly closed in, the device can withstand 1 meter of water depth for several minutes without any impact. Such kind of physical security is provided to the device which leaves a very rare chance of physical damage to the device.
The device measures 86.1 mm x 24.2 mm x 10.8 mm. It's pretty large enough than normal USB storage sticks. With all this thickness, it's not possible to connect any other USB device in a neighboring port. You may want to use a USB extension cable to access neighboring USB port. The casing does have a strap hole to attach keychain or sort of accessories.
Also read: How to boot Spyrus Linux2Go drive tutorial with video
Software security features
Along with physical military-grade security, the device has so much to offer on software security front as well.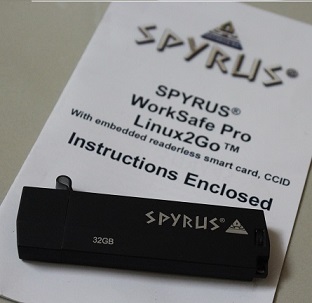 Device booting is protected by ToughBoot bootloader which is password protected. Only if you have ToughBoot password, you can boot device. When not booted into and plugged into to already running machine, you can use it as a smart card logon. The device is also loaded with CCID (Chip Card Interface Device) support and embedded readerless smart card for authentication. This smart card authentication can be used for secured network accesses or with PKI digital certificate functions.
The device is installed with BitLocker which offers full disk encryption for an extra layer of security. You can even create a separate encrypted partition with it. The device also offers military-grade XTS-AES 256 hardware-based encryption which is purely happening on the device only. Resources needed for hardware-based encryption are equipped with the device and it doesn't rely on the host machine's resources for encryption.
Spyrus offers central management of devices through SEMS (Spyrus Enterprise Management System) It helps to manage your devices centrally through one console. You can even get the help of it when you forgot your device passwords. It can also enable or disable drives remotely so you have full control of the device whether you have it physically with you or not.
Spyrus Linux2Go device is also configured with hardware read-only mode which can be added security for very sensitive data placed on it. More of such a technical feature list can be found here on their webpage.
Performance
The device is pretty quick to boot. It comes up to the ToughBoot password prompt within few seconds. My Spyrus WorkSafe Linux2Go drive booted in 17 seconds. Read-write speeds seem promising. Spyrus claimed sequential read up to 249 MB/sec and sequential write up to 238 MB/sec.
The device does get warm after long use. Performance is super on USB 3.0 ports and yes they are backward compatible with USB 2.0 ports as well. But you won't get that optimum performance on 2.0 ports. Spyrus guarantees data retention on the drive for 10 years which is pretty good enough.
Spyrus WorkSafe Linux2Go drive datasheet here for your reference. Some more numbers, performance parameters are in this datasheet.
Where to buy
Spyrus Linux2Go drives are available in 32GB, 64GB, 128GB, 256GB, 512GB & 1TB sizing. As of today (at the time of writing this review) drives are not available to buy online directly. You need to contact Spyrus for your purchase. Spyrus does have the online store here but Linux2Go drives are not on sale there. Pricing details are not available online from Spyrus but approximately it varies from $2.5 to $4 per GB. Higher size device will have a lower price per GB and vice versa.
So why wait…Go get your copy of Linux2Go drive and carry your Linux world with you wherever you go!