A quick article listing what's new in RHEL 8 BETA. Also, enlist steps to download RHEL 8 BETA ISO from the Red Hat developer portal.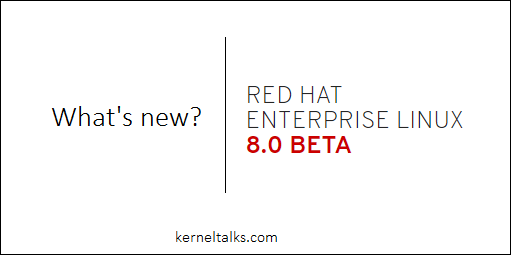 RHEL 8 Beta version got released recently (Nov 14, 2018) and its Beta version is available for developers! In this quick post, we will walk you through features RHEL 8 offering currently and how to download your own RHEL 8 ISO for testing. If you are looking for more details then follow RHEL 8 release notes by Red Hat.
How to download RHEL 8 ISO
Red Hat Enterprise Linux 8 Beta is available to download on their developers portal. You need to sign up for a free account on the Red Hat developers portal. Login to the portal using your created account Navigate to download section. There you can check the link to RHEL 8 separate page or you can directly go to RHEL 8 page here. Here you will find links to download RHEL 8 ISO.
Download ISO and go ahead with the install.
Do check out our article on RHEL 8 installation with screenshots.
New features in RHEL 8
Lets check out what's new in RHEL 8
RHEL 8 is built with developers in mind! There is so much in the box for application developers.
RHEL 8 comes with pre-enabled repository Application Stream (AppStream) which provides many developers tools.
Its developer-friendly means fewer efforts needed for setup or configuration. A developer can start working on codes easily without wasting many efforts in setting up the environment for it.
Easy to use for developers who are new to Linux
It has all cloud/container application development tools.
Linux containers included in the bag
cockpit is available by default in RHEL repos. A cockpit is a web-based tool used by the sysadmin to manage systems.
KDE environment is deprecated from RHEL 7.6 hence it's removed in RHEL 8
GNOME v3.28 is loaded with RHEL 8.
With GNOME, RHEL 8 uses Wayland as default display server instead of X.org
Startis is a new volume management tool introduced.
XFS file system now supports shared copy on write data extents functionality
LUKS2 encryption format (default) introduced which replaces legacy LUKS1 format.
DNF is rolling out behind YUM
RPM v4.14 is distributed in RHEL 8 which validates entire package contents before starting installation.
iptables are replaced by nftables.
OpenLDAP is no more available.
It has composer included. It's used to deploy custom images in the cloud.
Few software versions available with RHEL 8 are Python 3.6, Nginx 1.14, Apache 2.4.35, PHP 7.2, Ruby 2.5, Perl 5.26, Databases like MariaDB 10.3, MySQL 8.0, PostgreSQL 10, PostgreSQL 9.6, and Redis 4.0
OS content is available through pre-enabled repository BaseOS
Supports up to 4PB of physical memory.
nobody user replaced by nfsnobody
KVM supports 5 level paging, increasing physical and virtual address space used by host or guest.
qemu-kvm 2.12 added which has many enhancement ones being hot vCPU plug-unplug
and many more…
We have curated only a few features in the above list. You can always navigate to 8.0 release notes and read the detailed list of enhancements and features in RHEL 8!
Go ahead, grab your ISO copy of RHEL 8 and get your hands on this new sensation in Linux world.