List of all online Linux yum or apt package repositories, mirrors, download sites. Updated continuously whenever a new link is discovered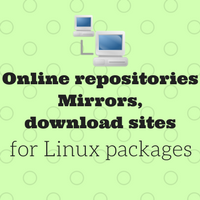 This article aimed at listing all available mirrors, repositories, package download sites for Linux distros. Let us know broken/new links in comments and we will update this post accordingly.
Use these links on your own risk!
Fedora Mirrors
https://admin.fedoraproject.org/mirrormanager/ (Sorted by distro, arch etc)
More details here
Red Hat Mirrors
ftp://tug.ctan.org/pub/mirrors/ftp.redhat.com/mirror.html (sorted by Geo locations)
More details here
CentOS mirrors
https://www.centos.org/download/mirrors/ (sorted by Geo locations)
More details here
Articles you might be interested :
openSUSE mirrors
http://mirrors.opensuse.org/ (sorted by Geo locations, repo)
Oracle Linux mirrors
https://community.oracle.com/docs/DOC-917963
Oracle public YUM repository : http://public-yum.oracle.com/
EPEL repositories
https://dl.fedoraproject.org/pub/epel/
Debian worldwide mirrors
https://www.debian.org/mirror/list (sorted by Geo locations, Architecture)
More details here
Ubuntu
RPM search and download sites
https://www.rpmfind.net/linux/RPM/