HPUX is HP's own Unix operating system which runs on HP hardware only. In this post, know if you can learn or practice HPUX online.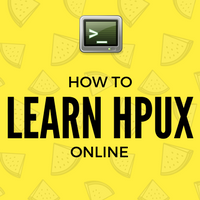 Many of our readers asked this question "How do learn HPUX online?", "How to practice HPUX online?", "Are there HPUX online test servers?". So I thought of writing this post which discussed over if its possible to learn HPUX online by sitting at your home.
In today's open source world, there is very small amount of space being owned by proprietary kernel's like HPUX by HP, AIX by IBM, Solaris by Sun etc. Being proprietary, these UNIX variants needs specific hardware to run on. Most of then dont even have emulator's platform existing and dont run on vmware either. In such scenario, it becomes mandatory to have a licensed hardware to learn those technologies.
HPUX kernel supports only Itanium (IA) and PA-RISC architectures. This is the reason this OS cant run on VMware VM. IA and PA-RISC are very expensive hardware to own for a normal learner. PA-RISC being legacy hardware you might get it cheap in re-sell but again to find someone willing to sell this hardware is another treasure hunt quest!
Own HP Hardware:
One way to learn or practice HPUX is to buy HP hardware. You can purchase it directly from HP or its resellers. But since its expensive 99% of learners won't opt for this option. Another way is to buy old hardware at a cheap price provided you found it up for sale!
Online HPUX servers:
HP used to run a program named "HP test drive". Under this program, HP was offering free HPUX test machines (remote non-root access). But this program is shut down and no more available.
There are some institutes or learning centers which offer online HPUX server's access for practice on a paid basis. You need to google around for such institutes locally in your area.
HP himself offers an "HP performance center" program in which you can test hand on HP objects. Contact the local HP representative for more details.
Online courses :
Obviously this is always an open option. Learning centers offering HPUX courses locally in your area. HP also offers the HPUX learning module under its eLearning program.
Online study material :
There are many online course material for certification book materials available for HPUX. To start with, if you are a beginner, I will recommend book by Ashghar Ghori which is best to start with. It's available to purchase from many websites like Amazon, Flipkart, etc. HP also provides study material which comes with their online courses.
Apart from this, HP official ITRC forum for HPUX is the best place to get your queries regarding HPUX resolved. Also, you can go through online blogs, videos, etc to learn HPUX. Obviously you can subscribe to this website which also publishes articles on HPUX frequently!
Conclusion :
If you are ready to spend a good amount of money on learning HPUX, go ahead with HP online courses and training materials. For a low budget, you need to search for local institutes offering HPUX courses.
Let us know in comments if you know any good online HPUX resources.