UID range distribution in HPUX. Learn what is range reserved for system user ids and which range is open for normal users.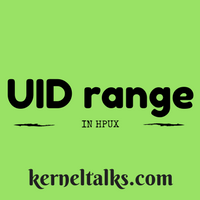 UID is a user identification number in the kernel. Every user on the system is identified by the UID number. UID is unique and is assigned to the user at the time of its creation. It is a unique number. But you can assign the same uid to two different users using -o switch in useradd or usermod command.
UID distribution on HPUX system is as below :
0: root user
1 to 100: System accounts
101 to 60,000: Normal users
Above 60,000 also you can create user but he/she won't be able to access any of system resources.