Happy Sysadmin Day 2017! System Administrator Appreciation Day is always last Friday of July month yearly. This year it's 18th annual.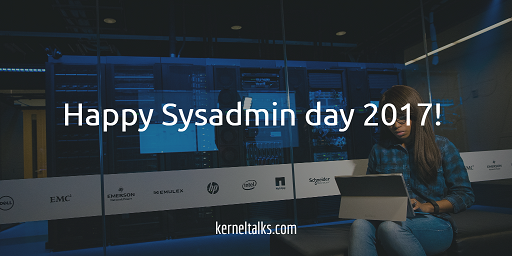 First of all,
Happy Sysadmin Day to all our readers
Yes, its 28 July 2017! System Administrator Appreciation Day 2017!
Sysadmin day is normally last Friday of July month. This year its 18th annual Sysadmin day.
Sysadmin! He/she is the one who keeps your digital world running from behind the scenes. Anything digital you use right from your computer to your ATM card machines, sysadmin is behind them to keep them running healthy. Sysadmin never gets any appreciation he deserves. He works 365 days of year-round the clock even in graveyard shifts. His clock always ticks to make services available all the time. When systems are down everyone else is at ease, the only sysadmin is the one who gets all the heat and overworked to get systems back up. You can not imagine the digital world without sysadmin!
What is sysadmin day
It is a day dedicated to the appreciating system administrator. They are the real hero keeping your digital world running! So why not dedicate one day to appreciate the work they do for you! Appreciate their hard work, their holiday sacrifices, their tolerance when they take heat during downtime, their extra workloads keeping your digital infra up to date. Let's appreciate at least one sysadmin today by greeting them, gifting them, exchanging little talk with them & expressing thankfulness!!
There are few ways you can appreciate your sysadmin listed here on sysadminday.com. Those are really worth considering.
Cheers!!
Thank you readers (mostly all of you are sysadmins!) for stopping by! Enjoy your day! And yes, for my Linux buddies – Have a happy shell!
Out tweet about this post was liked by the Founder of Sysadmin day! Ted Kekatos @tedkekatos
Happy Sysadmin Day 2017! #sysadminday #sysadmin #itday #thankyousysadmin https://t.co/fFS30PS02Z pic.twitter.com/6FN33AmAPY

— Unix, Linux & Script (@kerneltalks) July 28, 2017