Here we are on the 100th block! Kerneltalks journey of 4 months reaching a milestone of 100 posts! Crawling web of Linux, Unix & scripts for the goodness of sysadmin!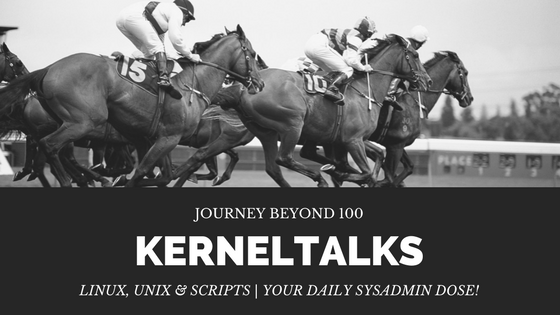 And here we are!!!! on 100th post!!!!
kerneltalks.com was registered in Oct 2016, to take a journey of kerneltalks.blogspot.com further into wider space. In 3-4 months of the span, KT has grown to 100 posts database of Linux, Unix, and Script related stuff. We have observed 40K pageviews in this period and a continuously growing organic search number!
There were a couple of technology enhancements done to run KT smoothly and give an awesome reading experience to all its readers.
KT started getting feedback, questions from its readers over email. Social branding is one of the aspects KT just started and advancing at a low pace day by day. As of today, KT having 377 fans on its Facebook page, 5 Google+ followers, 15 Twitter followers, 19 Feed readers, and 28 email subscribers. Totaling 444 social followers. Although these numbers look pretty small they are growing and yes they are not paid ones!
KT also gained a leap in Alexa ranking. Currently its ranked 4,00,728th popular website in the world and 33,529th in India. If you are into blogging and know what is Alexa, you definitely love these numbers!
I hope the same continuity in the future and would like to see these numbers greatly raised when KT reaches 200 posts milestone! Till then, have a good time! Happy surfing!!