The small guide which will help aspirants for Docker Certified Associate Certification preparation.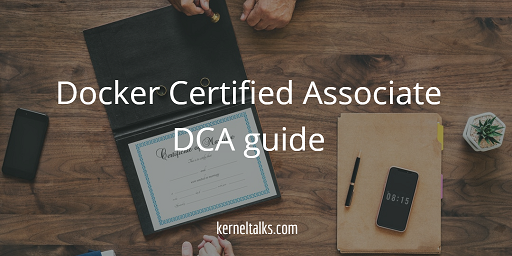 I recently cleared DCA – Docker Certified Associate Certification and wanted to share my experience here on my blog. This might be helpful for folks who are going to appear examination soon or may aspire containerization aspirant to take it.
DCA details :
Complete certification details and FAQs can be found here on there official website.
Duration: 90 minutes
Type: Multiple choice questions
Number of questions: 55
Mode of exam: Remotely proctored
Cost: $195 (For India residents, it would be plus 18% GST which comes roughly 16-17K INR.)
Preparation
Docker Certified Associate aims at certifying professionals having enterprise-level experience of Docker for a minimum of a year. Whenever you are starting to learn Docker, mostly you start off with CE (Community Editions) which comes free or your practice on Play with Docker which also serves CE Docker. You should not attempt this certification with knowledge or experience on CE only. This certification is designed to test your knowledge with Enterprise Edition of Docker which is fully feature packed and has paid license tagged to it.
So it is expected that you have a minimum 6 months or years of experience on Docker EE in the enterprise environment before you attempt for certification. Docker also offers Trail EE license which you can use to start off with EE Docker learning. Once you are through with all the syllabus mentioned on the website for this certification and well versed with Docker enterprise world then only attempt for certification.
You can register for examination from a website which will redirect you to their vendor Examity website. There you need to register for the exam according to the available time slot and make the payment online. You can even book for a time which is within 24 hours but it's not always available. Make sure your computer completes all the pre-requisite so that you can take the exam without any hassle. You can even connect with the Exam vendor well before the exam and get your computer checked for compatibility with Exam software/plugin.
Docker's official study guide walks you through the syllabus so that you can prepare yourself accordingly.
During Exam
You can take this exam from anywhere provided you have a good internet connection and your surrounding abides rules mentioned on certification website like an empty room, clean desk, etc. As this exam is remotely proctored, there will be executive monitoring of your screen, webcam, mic remotely in real-time. So make sure you have a calm place, empty room before you start the exam. You should eat, use a cellphone or similar electronic device, talk, etc during the exam.
Exam questions are carefully designed by professionals to test your knowledge in all areas. Do not expect only command, options, etc types questions. There is a good mix of all types of logical, conceptual, and practical application questions. Some questions may have multiple answers so keep an eye on such questions and do not miss to select more than one answer.
After exam
Your examination scorecard will be displayed immediately and the result will be shown to you. You can have it on email. The actual certificate takes 3 minutes before it hits your inbox! Do check spam if you don't receive it before you escalate it to Docker Certification Team (certification@docker.com)
All the best! Do share your success stories in the comments below.